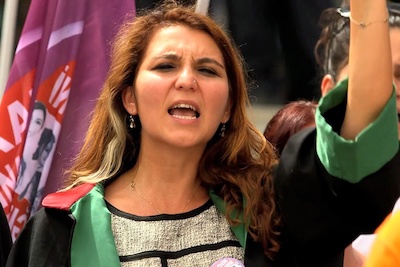 DOK Preview is a showcase of new documentary projects developed within European trainings. Also this year ESoDoc will be present with a project developed in 2017 by British producer Sinead Kirwan: Dying to Divorce, by director Chloe Fairweather. 
Dying to Divorce tells the story of Ipek, who fights to stop domestic abuse and bring violent men to justice. As violence against women soars and Turkish society starts to fall apart, Ipek's clients risk everything for their freedom.
Each team will be trained by mentor and moderator Stefano Tealdi in the days preceding, providing new networking opportunities for the graduates to create new close working ties.
The event will take place on Wednesday the 31st of October, from 10:30 till 13:00, at Leipziger Pfeffermühle. 
Heidi Gronauer (Head of Project) and Sabine Bubeck-Paaz (Head of Studies) will also be present at the event. Contact us if you want to book a meeting!
For more information visit dok-leipzig.de