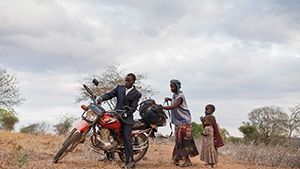 "Thank You For The Rain" is the project developed at ESoDoc by Julia Dahr (2013 alumni / Differ Media) and produced by Hugh Hartford (2006 alumni / Banyak Films). 
The film will premiere at CPH:DOX 2017, on Tuesday 21st of March at 8pm, at Empire Bio (Guldbergsgade 29F, Copenhagen).
The film is in the official competition in the section "NORDIC:Dox Award", which selects the best and brightest in non-fiction filmmaking from the nordic countries.
From the film's synopsis: 
"Five years ago, the Kenyan farmer Kisilu Musya started to document his family, his village and the impact that climate change is having on both. He has filmed floods, droughts and storms at close quarters, but the human cost for his children and wife is also depicted. When Kisulu's house is destroyed by a storm, the self-taught filmmaker starts a communal farmers' movement and calls for action against the extreme consequences of the weather. Kisulu makes it far in his struggle – all the way to both Oslo and the high circles of COP21 in Paris – but the further Kisulu gets into the world of global politics, the more resistance, bureaucracy and arrogance he encounters. 'Thank You for the Rain' is an inspiring and captivating tale of an indefatigable optimist, who nonetheless tests his limits in the fight for a greener world."
Check out all screening times CPH:DOX website.
Follow them on Facebook or visit their website at http://kisilumovie.com/