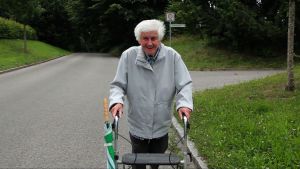 "Outside Peace, Inside War" - developed at ESoDoc by director Katja Berls - will have its World Premiere at the 5th London Feminist Film Festival on August 20, 2017 (Official Selection, UK).
The film tells the story of Hilde and her surviving sister, who speak about their experiences of sexual and physical violence perpetrated against them and their sisters by soldiers during WW2. 
The film will be screened on Sunday 20 of August at 1.30 PM, within the session titled "VAWG: RESISTANCE & SURVIVAL", which explores and celebrates women's global resistance to violence against women and girls (VAWG) through films that challenge the notions that there is one right way to respond to VAWG and that there is one kind of survivor.
More information are on the screening available at this link.