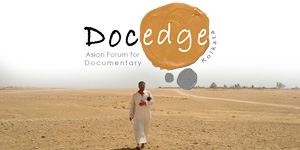 Heidi Gronauer will present ESoDoc at DocedgeKolkata 2017 in a panel discussion titled "The Role of Foundations in Asian Region", on March 2, at 2pm, at Auditorium Max Mueller Bhawan, Goethe Instut, Kolkata. 
She will also select - during the pitching event of DocedgeKolkata - one project for the ESoDoc Award, which will give access to the filmmaker to participate to the final session and public pitch of ESoDoc 2017, which will take place in Vilnius (Lithuania) during and in partnership with the "Human Rights Film Festival: Inconvenient Films".
The documentary "Nowhere to Hide", developed at ESoDoc 2015, winner of the "Award for Best Feature-Length Documentary" at IDFA 2016, will be presented by it's director and ESoDoc alumni Zaradasht Ahmed.
"Nowhere to Hide" will be screened on March 3, at 6pm, at Auditorium Max Mueller Bhawan, Goethe Instut, Kolkata.
DocedgeKolkata, Asian Forum for Documentary is an international documentary event attended by some of the most noted documentary makers from across the globe along with foundations and broadcasters to explore co-production opportunities for creative independent filmmakers passionate to produce intriguing stories from real life. The partnership between ESoDoc and Doc-edge wants to strengthen the networking and industry opportunities working across continents.