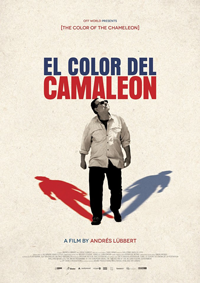 "El color del camaleon" - developed by Andrés Lübbert at ESoDoc 2014 - will have its avant-première in Brussel, on Tuesday 7th of March, at Cinéma Aventure.
"The Color of the Chameleon" is an intimate story. The story of a man in search of inner peace. The story of a son and his insistent search for answers. The story of a father and his son and their lack of dialogue. An intriguing and universal story about the dark side of the human condition.
From the film's synopsis: "During the Pinochet-dictatorship, Jorge becomes an instrument for the Chilean secret services, who force him to work for them in an extremely violent way. He is able to escape from Chile and becomes a war cameraman based in Belgium. Today, his son Andrés takes him back to the places of his unfinished past."
Facebook Event: https://www.facebook.com/events/1112514268876501/ 
Off World: http://offworld.be/node/240 
Facebook: https://www.facebook.com/pg/elcolordelcamaleonfilm/