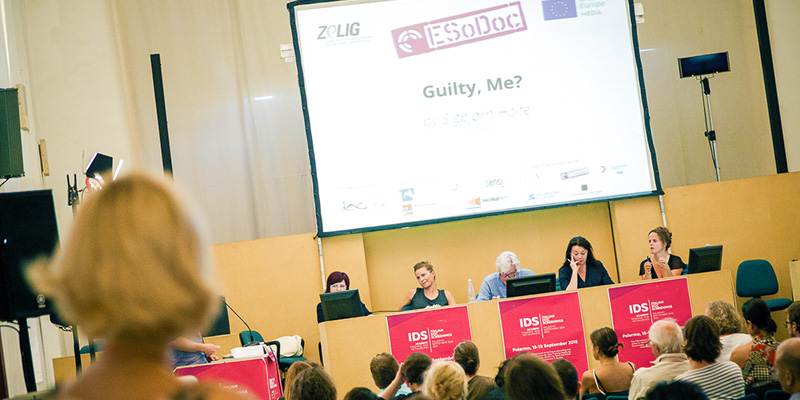 The last session of ESoDoc 2016 will take place in the framework of the training and networking event IDS Academy 2016 - promoted by Doc/it - which will take place in Palermo from September 11 till 17, 2016. 
There's time till September 2 to register for the event, which will feature ESoDoc's final pitching, the Match Making by Documentary in Europe and a series of keynotes focused on the theme of "EXPANDED DOCUMENTARY".
Film-makers, producers, experts and documentary lovers from across the world can register for IDS Academy 2016 till September 2! More information are available on http://www.italiandocscreenings.it/en/
During the event, the projects developed during the 3 sessions of ESoDoc 2016 by film-makers from all over Europe will be presented in front of a panel of international experts, moderated by Stefano Tealdi (Stefilm, Italy).
Panel experts: 
- Caroline Mutz: Commissioning Editor, Arte G.E.I.E. | France
- Leena Pasanen: Manager and Artistic Director – DOK Leipzig | Germany
- Bruno Smadja: Founder at Mobile Film Festival & Cross Video Days (Market) | France
- Mike Lerner: Producer, Roastbeef production | UK
- Wendy Levy: Executive Director, NAMAC - National Alliance for Media Arts and Culture | California (USA)
Participants and projects at ESoDoc 2016: 
- "The Jungle", by Audun Amundsen | Norway
- "Idrissa", by Xavier Artigas | Spain
- "Love is not an Orange", by Otilia Babara | Romania
- "Zero Impunity", by Nicolas Blies | France
- "Communism against Nature", by Raul Cazan | Romania
- "The Frontline of Peace", by Matteo Delbò | Italy
- "Born of War", by Elin Festøy | Norway
- "One More Jump", by Manu Gerosa | Italy
- "When we used to smile", by Nikolina Hrga | Croatia
- "Begging for Work", by Julie Lunde Lillesæter | Norway
- "We are not for sale", by Edu Marin | Spain
- "Herders", by Mark Michel | Germany
- "No Reputation", by Zipporah Nyaruri | Kenya
- "4GeneRelations Women", by Paula Onet | Romania
- "No Child's Play", by Gayatri Parameswaran | India
- "Robin Hood 2.0", by Mette Reitzel | Denmark
- "Plates & Cups", by Laura Robinson | United Kingdom
- "The Earth Masters", by Nadja Smith | Germany
- "Quite Achivers", by Mate Vincze | Hungary
- David Giacomelli | Italy
- Luca Rosini | Italy
- Timothy Webster | United Kingdom
Guest participant from id w / interactive documentary workshop (SUPSI, Switzerland): 
- "Robotics for all", by Angelo Tsaousis | Greece
Guest participants from IDS Academy (Doc/it, Italy):
- "News from the dark side", by Ruggero di Maggio | Italy
- Francesco Cosentino | Italy
- Alessio Genovese | Italy