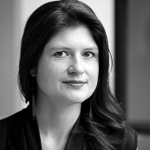 Nadja Smith

Germany
Nadja Smith worked for several TV stations (WDR, ARTE, BTV) and produced a cultural news program for BTV, in cooperation with Goethe Institute Barcelona. She worked as a producer for different Berlin based companies (f.e. credo:film, Medea film), then later as a production manager, freelance producer, and head of her own production company [N]SMITH focusing on social and cross-media documentary and international co-production. In July 2013 she founded the NGO Perspektive hoch 3 e.V. that deals with politcal, cultural, scientific and social topics in German society from the perspective of the so called Third Generation East Germany, the generation born between 1975 and 1985. Her latest releases are nine short documentaries about contemporary photographers from East Germany, screened at Willy-Brandt-Haus, Berlin, the co-production ANDROIDS DREAM (2014) by Ion de Sosa, premiere at 65th Berlinale Forum in 2015 and the co-production of the documentary ONE MILLION STEPS (2015) by Eva Stotz.
Project: The Earth Masters
The Earth Masters is a creative documentary on a scientific topic: Climate Engineering. It will challenge our views exploring the most radical and surprising proposals to tackle climate change from a women's perspective. How far are we willing to go to maintain our unsustainable lifestyles?